Cheap Price fiber Laser Marker 10W 20W 30W 50W for Copper aluminum
(Model:Man-50)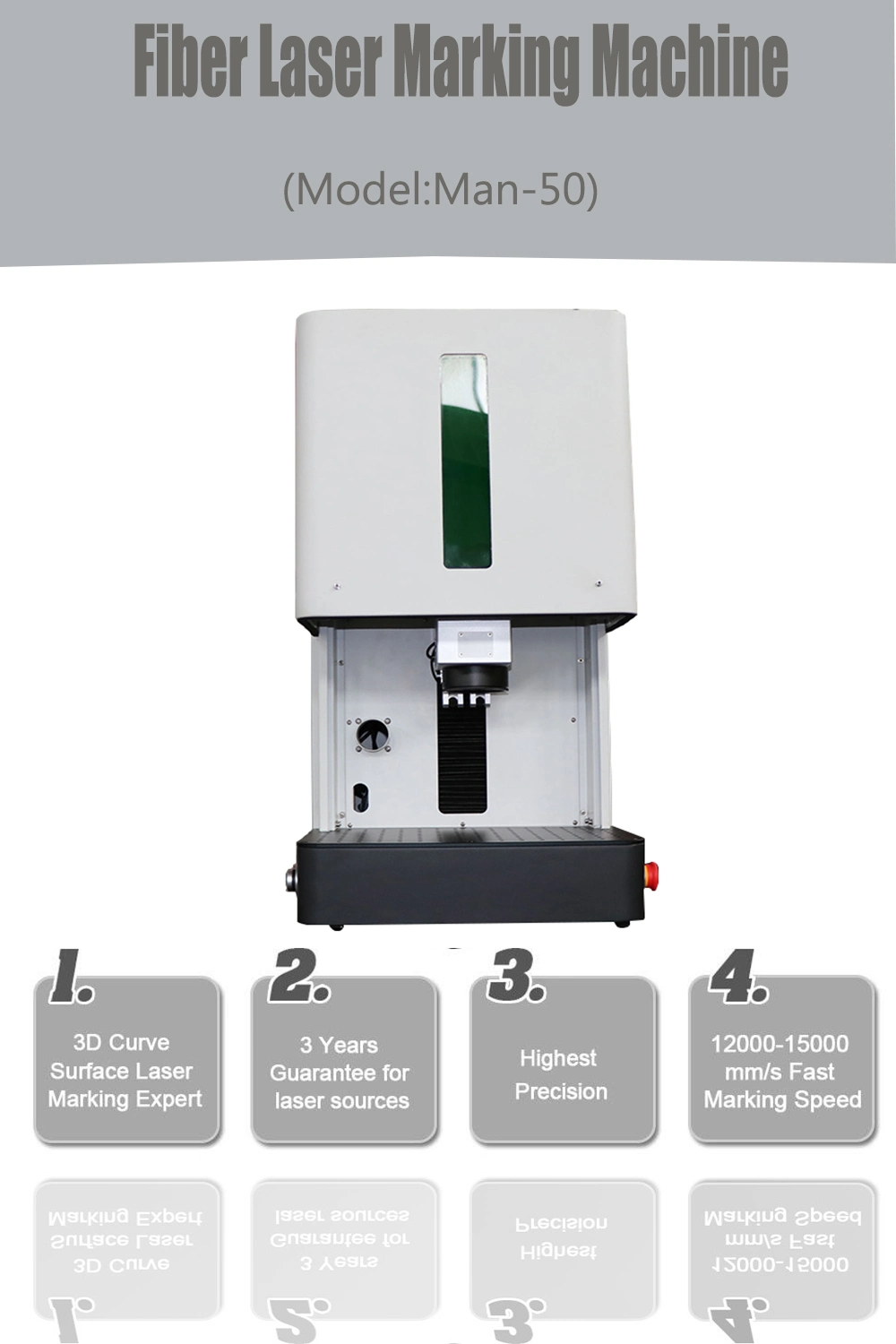 Product Description :

Fiber laser making machine is one of the most advanced laser marking equipment in the world nowadays, because the features of stable output power, great optical model, excellent quality of laser beam, fast working speed and best marking effect and efficiency. Also, it is easy to operate, has no wearing parts, low power, consumption, more incomparable advantages like:better and thinner marking lines, capable of being applied into ore advanced industries needing higher demand of depth, smoothness and precision, in order to perfectly meet requirments of consecutive working in industries.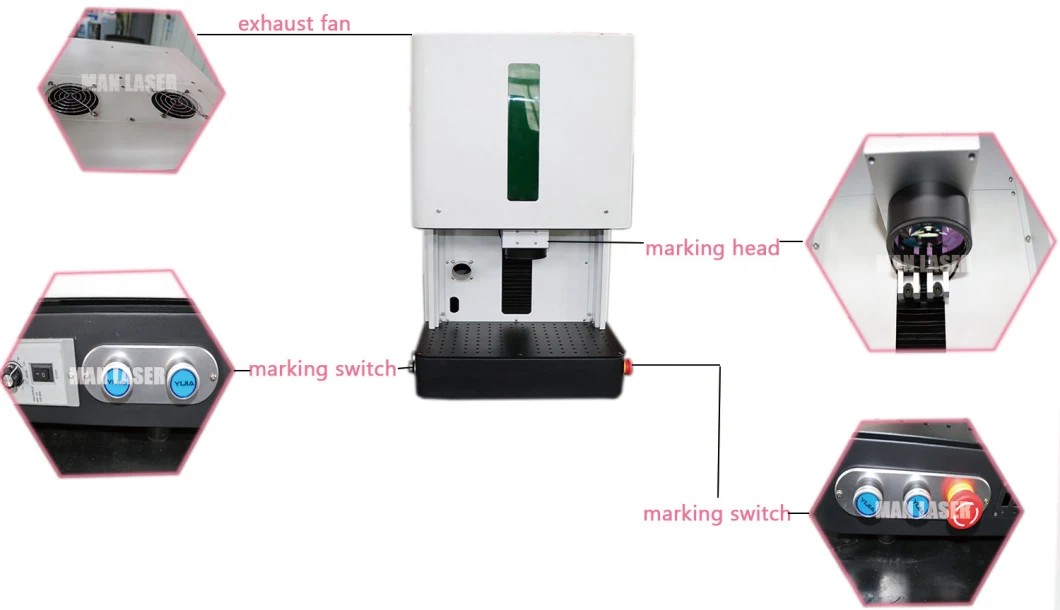 | | |
| --- | --- |
| Model | MAN-50 |
| Laser module | Raycus (German IPG or UK SPI) |
| Laser power | 10W/20W/30W |
| Wave length | 1060nm |
| Beam quality | m2<1.5 |
| Laser Repeat frequency | ≤100 KHz |
| Standard Marking Scope | 150*150mm/200*200mm/300*300mm |
| Optional Marking Scope | 50×50 100×100 (mm) |
| Marking Depth | ≤0.4mm |
| Marking Speed | ≤12000mm/s |
| Minimum Line Width | 0.01mm |
| Minimum character | 0.05mm |
| Repeated accuracy | ±0.001mm |
| Consumption power | ≤500W |
| Power supply | 220V/50Hz/10A |
| Cooling mode | Air cooling |
| Option | rotary device ,continuous feeding equipment |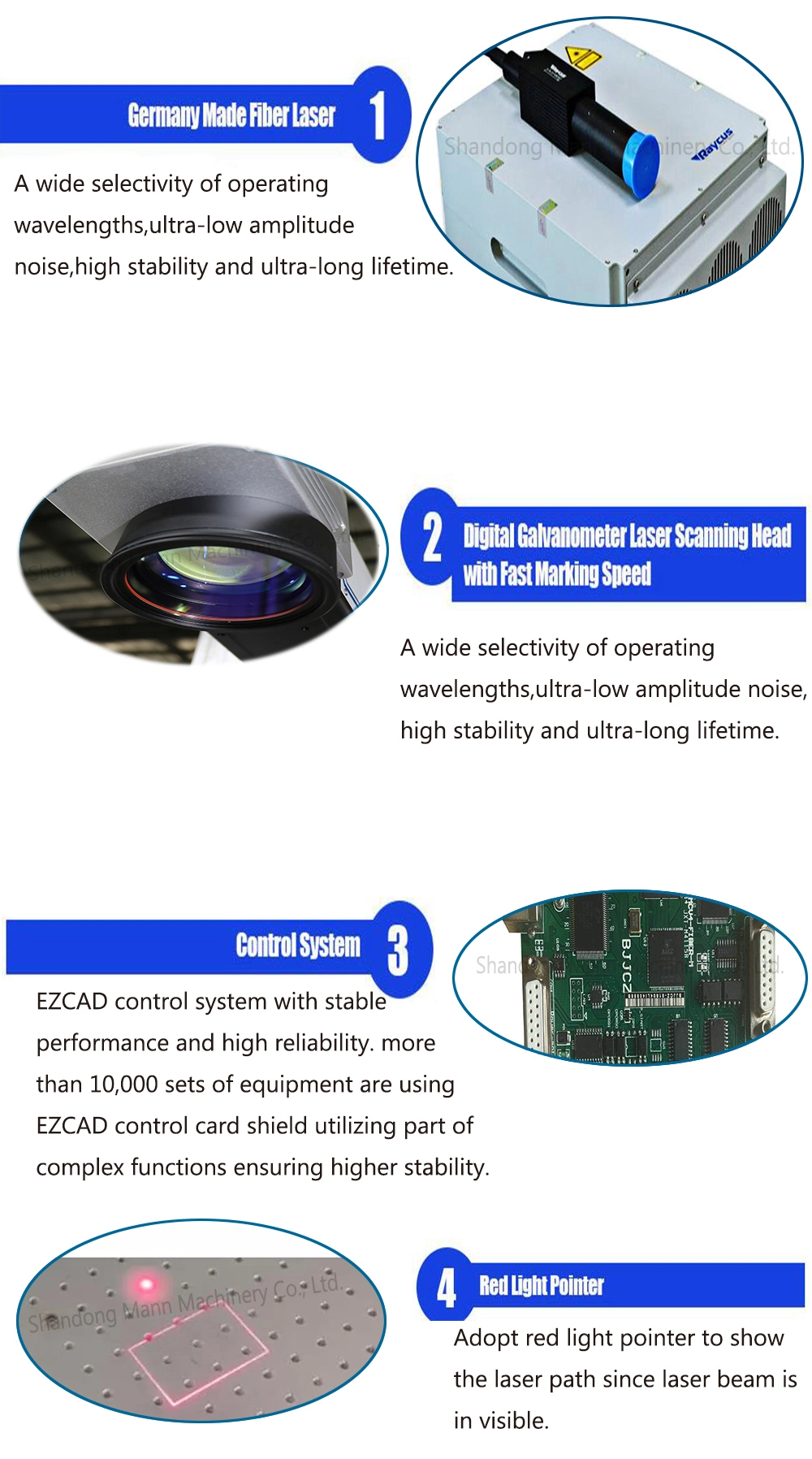 Applicable Industries:
Electronics and communication tools , IC chips, computer accessories and electrical appliances, all kinds of precise conponents, hardware tools, instrument and meter, aerospace devices, jewelry, clocks, gifts, office supplies, trademark
signs, sanitary ware, table ware, food, beverages , tobacco and alcohol and many other industries for marking logos, symbols, words, and also can be used in production line for mass quantities work.

Applicable Materials:
Metals and alloys (iron, copper, aluminum, magnesium, zinc and all other metals),plastics,rare metals and alloys (gold, silver,titanium), metal oxides (metal oxide may be), special surface
treatment(Phosphatize, aluminum anodizing, electroplating the surface), ABS material (electrical appliances shell, daily necessities), ink (translucent keys, print products), epoxy resin
(electronic components, packaging, insulation layer).etc.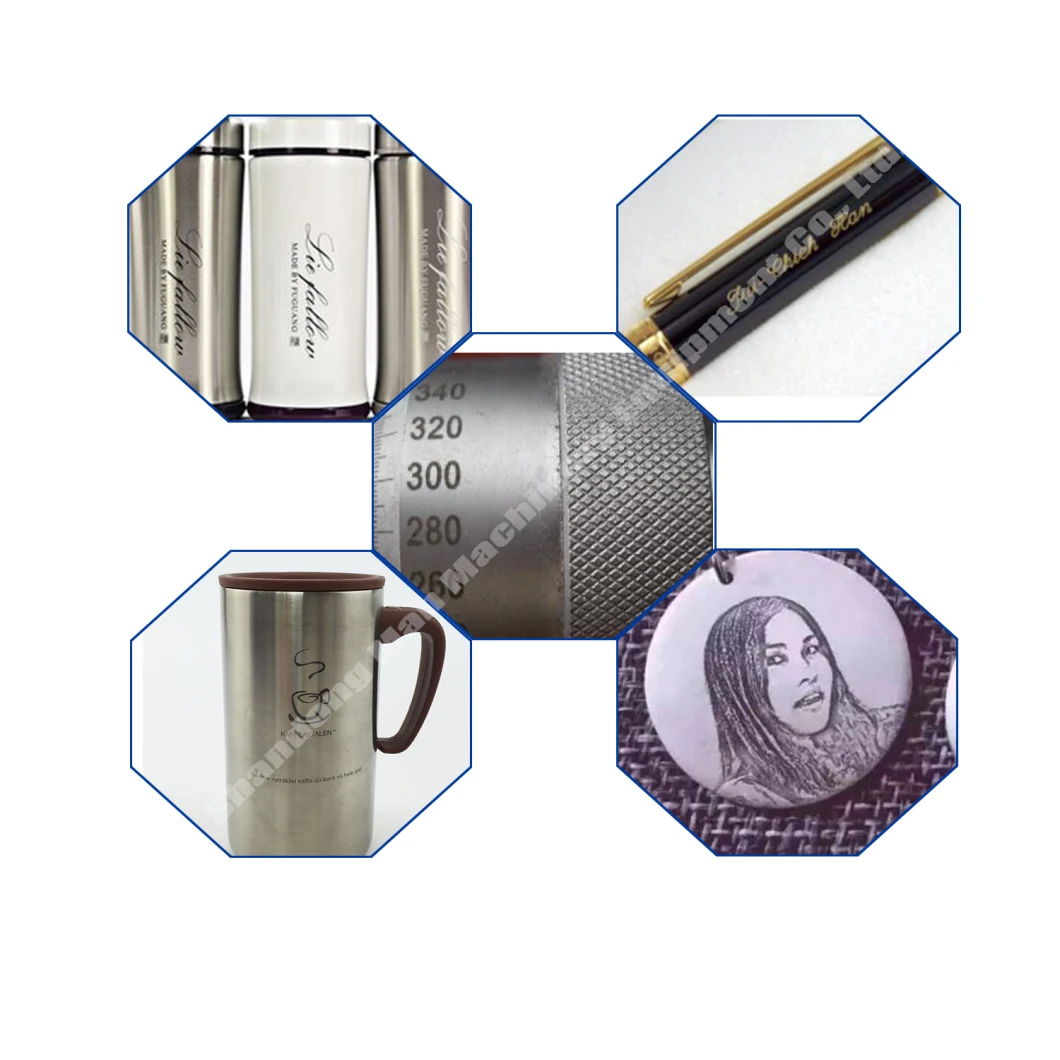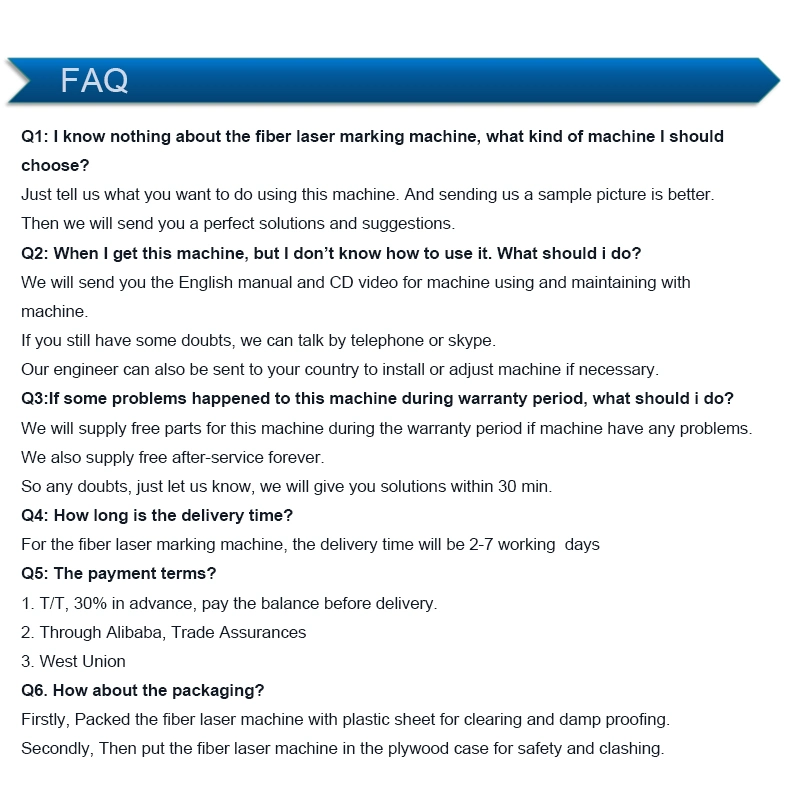 1) Free Training by VCD:We will supply the machine with <Training VCD> , <User's Manual> and <Instruction Book> in English for installing, operation, maintenance and trouble-shooting, and shall give technical guide by E-mail, fax, telephone, MSN, ICQ and so on, when you meet some problems of installation, using or adjusting.(Recommend)

2) Free Training Factory:You can send operator to laser marker factory for free training. Laser marker will offer professional guide for free.It is direct and effective face-to-face training.Here we have well-assembled equipments, all sorts of tools and testing facility.
Training Time:2-3 days (Recommend)

3) Our engineer can do a door-to-door instruction training service at your local site.We need your help to deal with the visa formality, prepaid traveling expenses and accommodation to us during the business trip and service period before their dispatch.It's better to arrange a translator for both of our engineers during the training period.

Quality Guarantee and After-sales Services
1)The guarantee period of quality shall be 12 months counting from the date on which the commodity arrives at the port of destination.Except the damage artificially and laser krypton lamp, we are responsible for offering the fittings free of charge during the guarantee period.While user is kindly requested to send the damaged fittings to us by courier with your charge before we send back the alternative fitting parts.After the guarantee of quality period, the parts required repairing or change, if any, shall be reasonable charged.
2)We will give technical guide by email, fax and telephone when user meets some problems on installation, operation, adjusting, maintaining.
3)We offer technical supporting to ensure safety using & maintenance for user:
Operation manual for installation, adjusting, operation, maintaining;
Professional marking software;
Operational marking software backup;
Quick supplement of key componentsUU with reasonable price.
Life-long after-sales service & consulting service to user.