glass plastic bottles laser marking machine
The UV marking machines incorporates with international advanced technology. High-energy ultraviolet photons directly destroy the molecular bonds on the surface of many non-metal materials, and the molecules are separated from the object. This method does not generate high heat, and the gather spot of ultraviolet laser is very small. The processing has almost no thermal impact, so it called as cold working, it is suitable for ultra-fine marking and engraving of special materials.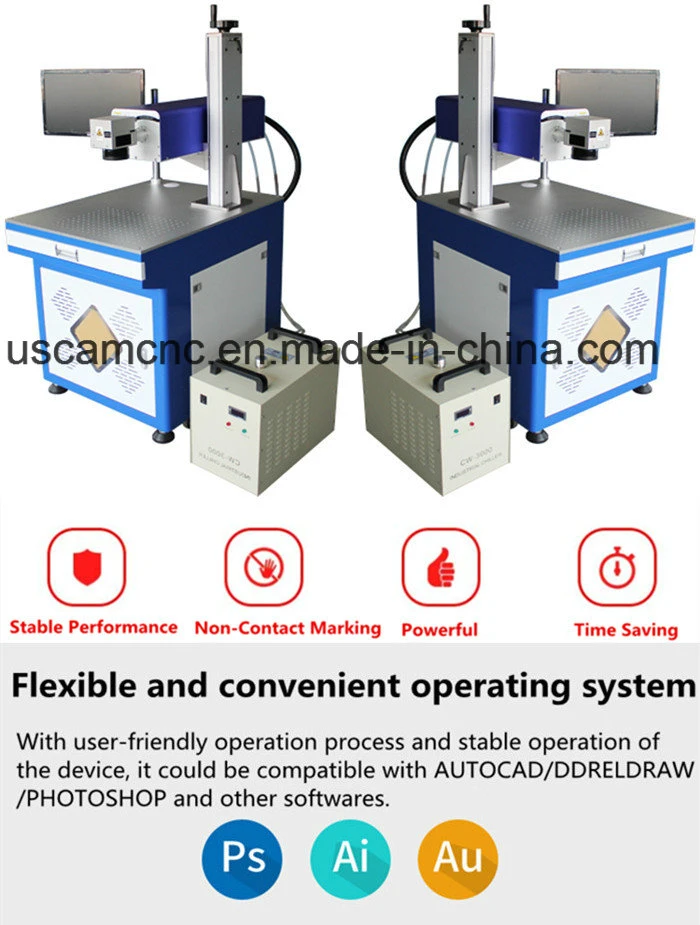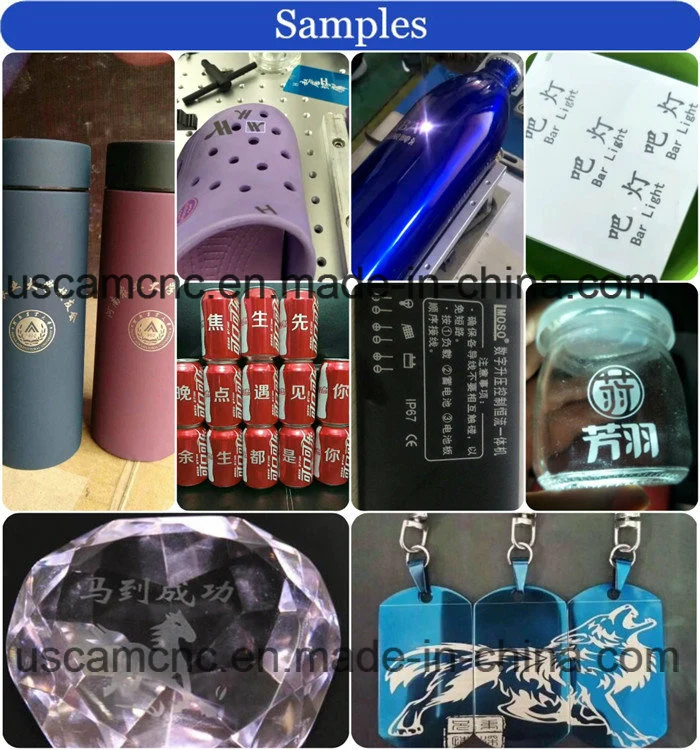 Application industries:
The UV laser has a very small spot size and has almost no thermal influence on the processing, so it is called cold processing. Thus it is very suitable for ultra-fine marking and engraving on special materials. It mainly used in the high-end market of ultra-fine processing, like surface marking of packaging bottles for cosmetics, pharmaceuticals, foods and other polymer materials; marking and dicing of flexible PCB boards; micro-hole and blind hole processing of silicon wafers; LCD liquid crystal glass QR code marking, glassware marking, metal surface plating removal, plastic buttons, electronic components, communication equipment, etc.
UV laser marking machine details:
Model

US-UV3/UV5/UV7/UV10w

Laser wavelength

355nm




Laser power

3W(optional:5w/7w/10w)




Laser power life

20000 hours




Beam quality M2

<1.1mm




Marking area

110*110mm(Optional)




Marking speed

600~1000Character/second




Marking line width

0.01mm




Marking line speed

0.01mm




Repeatability

±0.001mm




Cooling method

Water cooling




Power Demand

Ac220V 10 50HZ/60HZ




Machine power

0.6kw




Size

102cm*76cm*148cm(L*W*H)




Weight

140kg




Optimal operating environment


Temperature: 18ºC-26ºC,
humidity: 10% - 80%
| | | |
| --- | --- | --- |
| Machine parts | Specification | Quantity |
| Laser generator | American nLignt Laser Module - GL | 1 set |
| Laser wavelength | 355nm | 1 set |
| Galvanometer | Scanpuick high digital scanning galvanometer | 1 set |
| Focusing lens | Wavelength focusing lens | 1 set |
| Controlling software | BJEZCAD Marking Card Software | 1 set |
| Computer | Industrial computer | 1 set |
| Cooling system | Water cooling | 1 set |
| Rotating head | USCAM | 1 set |
| Fixture | USCAM | 1 set |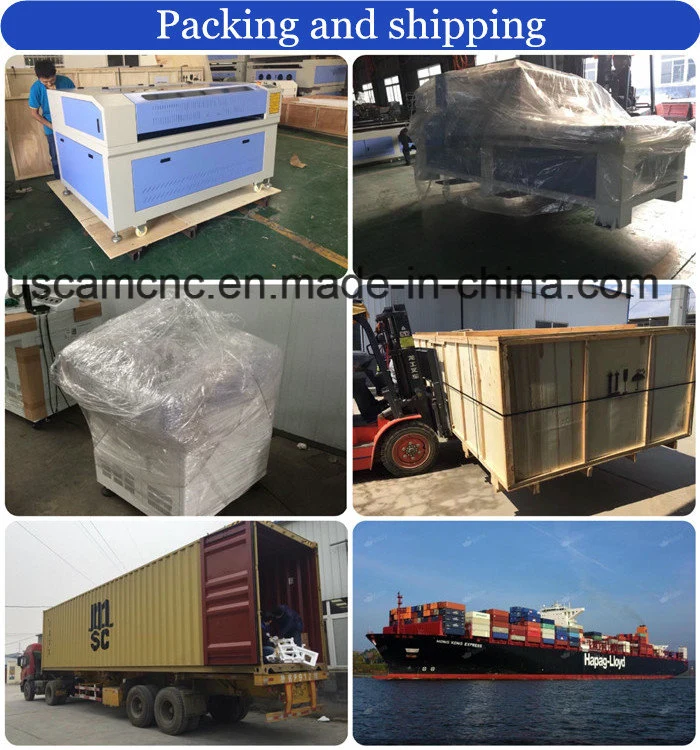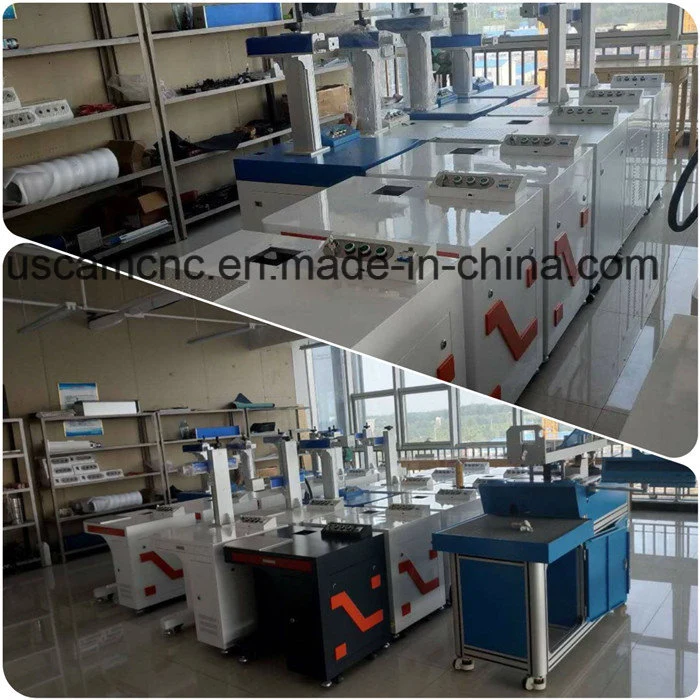 After-Service&Warranty
1. One year warranty for machine and two years warranty for fiber laser source
2. We will provide the consumable parts at an economic price.
3. 24 hours online service and a high attention, free technical support.
4. Machine has been adjusted before delivery, operation disk is included in the delivery. If there is any other questions, pls kindly tell me.
5. We have manual instruction and CD (Guiding Videos) for software Installation, operation and machine's using and maintenance.
FAQ:
Q: What's the package?
A: We have 3 layers package: The outside, we adopt plywood case, which is fumigation free. In the middle is covered with
thick sponge to protect the machine from shaking. Inside this is covered by thickening plastic bag for waterproof.
Q: Will the package damaged during transportation?
A: Our package is considerate all the damage factors and make it to be safe, and our shipping agent have full experienced in safe transportation.
Q: How to install and run the machine?
A: Our engineer have installed and tested the machine before shipping. No parts need installed.
For running machine, we have menus and videos to show you for training. And we also will training you on line. Most of customers training to run the machine like this, very little customer come factory for training.
Q: How can I do if the machine goes wrong?
A: If confronted with such problems, please contact us ASAP and do not try to fix the machine by yourself or someone else. We will response wthin 24 hours as quickly as we can to solve it for you.
Product advantages:
1.
The UV laser has a short wavelength and a smaller focusing spot, which enables ultra-fine marking;
2.
It belongs to cold processing because the heat affected zone is small and the material will not be deformed and burnt, which avoids the damage of the processing material and the marking effect is more beautiful.
3.
It is better than infrared laser material without deformation, better than ink coding without pollution.
4.
Ideal,very suitable for high-end market processing, such as cosmetics, pharmaceuticals, food and other polymer materials, electronic appliances, etc.
5.
The narrow pulse width laser has a short action time with the processing material, so the efficiency is high.
6.
Using high-speed digital galvanometer, so it is with high marking speed, high efficiency and high precision.
7.
Wide range of applicable materials makes up for the lack of infrared laser processing capabilities, so it is suitable for marking on most metal and non-metallic materials.
8.
No consumables are required, and the cost of use and maintenance are low.
9.
The performance of the whole machine is stable and can be operated for a long time.
Please feel free contact: