High Speed 8000mm/S Portable 10w/20w mini laser marking machine marker for SOHO
LBJC-700-B series of fiber lasers is one of the cutting-edge products of Label Laser. Its emergence is revolutionary for the integration of high-speed, high-resolution laser marking systems.
Its compact, stand-alone, easy-to-use design makes it easily integrated into the user's device.
Weighs only 13kg.
More suitable for laboratory and market applications.
No.
Type
MFS-10T
MFS-20T

1

Laser power

9±1W

19.5±0.5W

2

Central wavelength

1064nm

3

Beam quality

M2 < 1.4

4

Frenquency tunable range

20-50khz

30-60khz

5

Marking Area
(Standard)

110(F=160MM)

6

Marking Line Speed

0-15000mm/s

7

Mode for focusing

Manual

8

Marking Speed

600-1000 characters/min

9

Min. Line Width

0.02mm

10

Min. Character

0.15mm

11

Repetition Accuracy

±0.002mm

12

Cooling

Air Cooling

13

Working Environment

Clean Room or Less dust room

14

Working Temperature

10-35ºC

15

Power Consumption

≤ 120W

≤ 160W

16

Operation voltage

AC220V±10%, 50HZ

AC220V±10%, 50HZ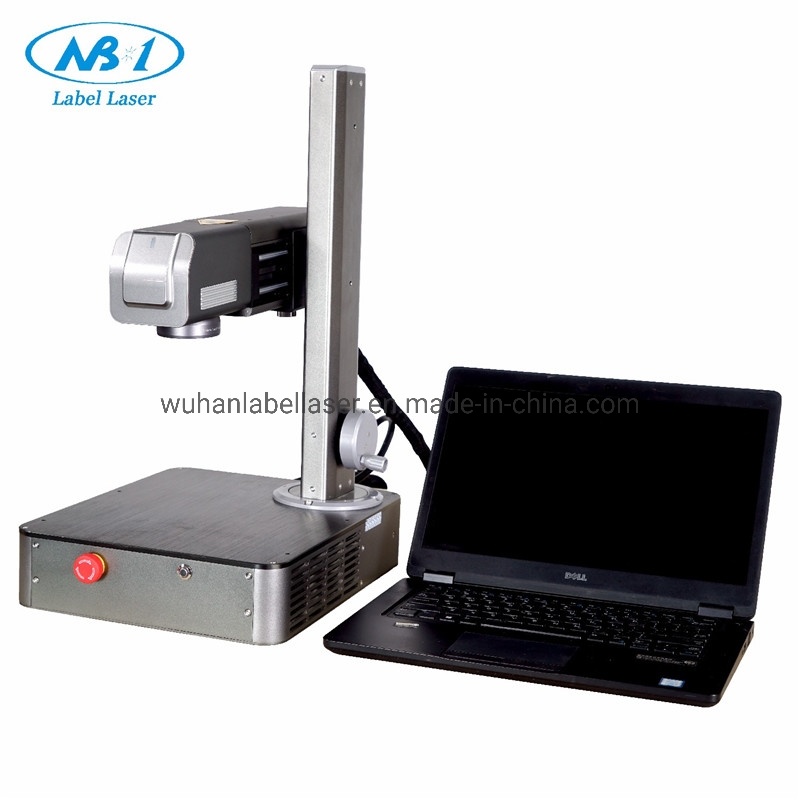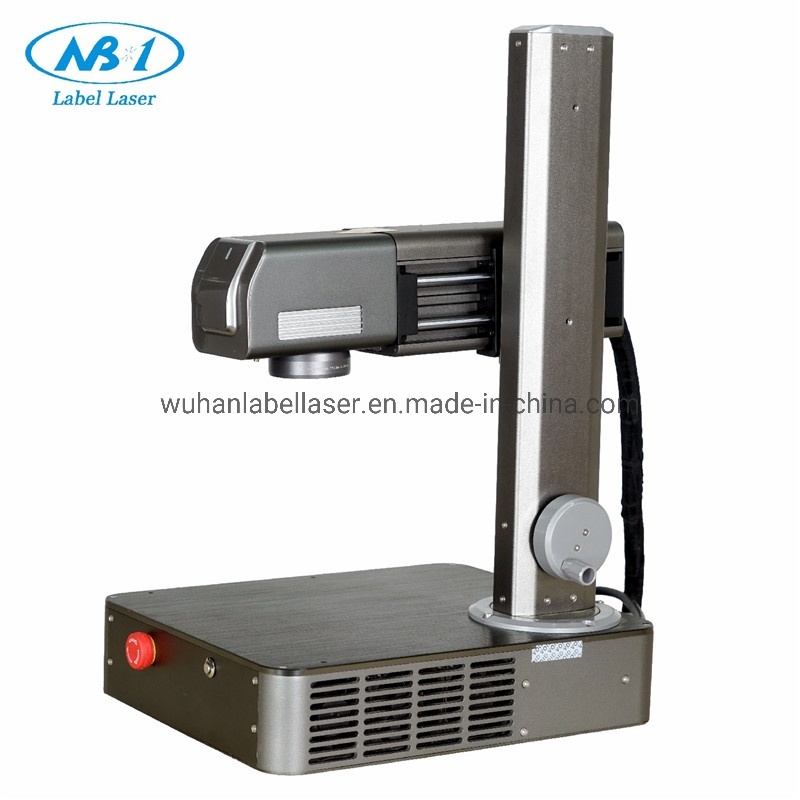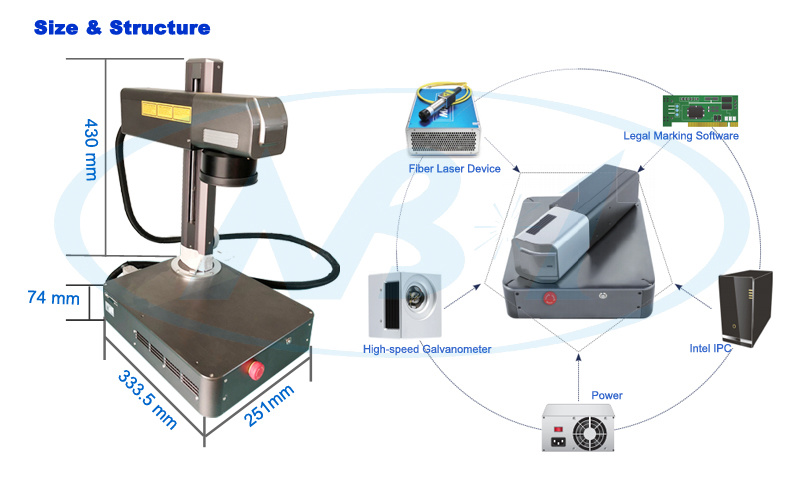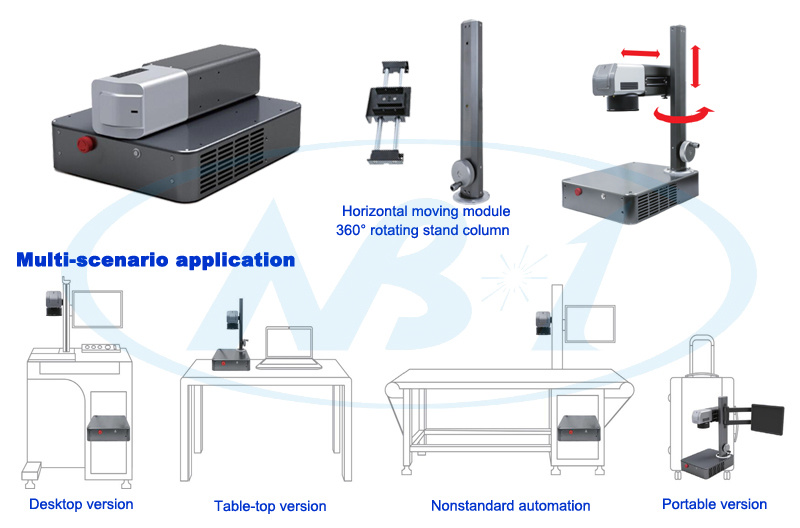 Main features:
Narrow light pulse, high peak power, wide repetition frequency range.

High reliability and long service life.

No shadows and virtual breaks when process special materials.

Weighs 10 KG. Smart, Handiness, Simple.

Marking speed max. 8000mm/s.

360°Rotating column.
Application Fields:
Material: Metal and most nonmetal.

Industry: Auto spare parts ,Hardware tools,Precision machinery,Electrical products,Electronic parts and components, IT, Medical equipment,Gift,Jewelry,High-low voltage apparatus, Detecting instrument,etc.

Working type: Static marking,On-line marking , Flying marking.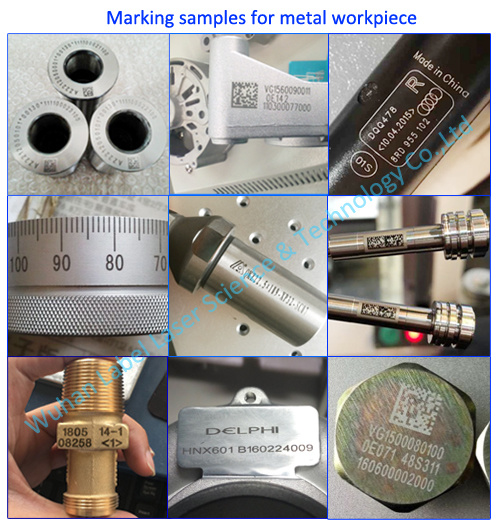 About us:
Wuhan Label Laser Science and Technology Co.,Ltd
is a hi-tech corporation located in China Optics Valley in Wuhan City.
It has been specialized in researching and manufacturing industrial Laser marking equipments and supplying marking solutions for customers all over the world since established in 2000.
Why choose us Label Laser ??
20 years of R&D and manufacturing experience.
Location:

located in China Valley in Wuhan city, one of the four major laser industry belts in China.

Production line:
Fiber laser marking machine, CO2 laser marking machine, UV laser marking machine, End-pumped marking
machine;
Dot Peen Marking Machine;
Laser Cleaning Machine (for rust/oil/dirt removal).
Customized laser processing machine.
Application industry:

Automotive hub industry, Automation, Pressure casting industry, Cylinder block cylinder head industry, Shipbuilding industry, Railway transportation, Petroleum, Petrochemical, Aviation, Electronic tools, Instrumentation, etc.

More than 4000+ successful cases of marking solution accumulated in domestic and oversea markets.
IPG/Raycus's long-term strategic partner. Our own brand LABEL is supplied by Raycus accroding to our technical index.
Representative strategic partners

: BYD Auto, Geely Auto, FAW, TOYOTA, SANY, ABB, CSIC, Continental, etc.

Our Marking Machine accounts for 80% of the share in the domestic automobile industry.
100% QC .
Strong ability to supply marking solution with experienced technology backup team.
Utility Model Patent Certificates:
Involved 3M Flexible label paper marking, Nameplate Auto marking ,
Engine cylinder block and head pass-type auto marking,
Automobile forged wheel hubs pass-type auto marking, Copyright of computer software, etc.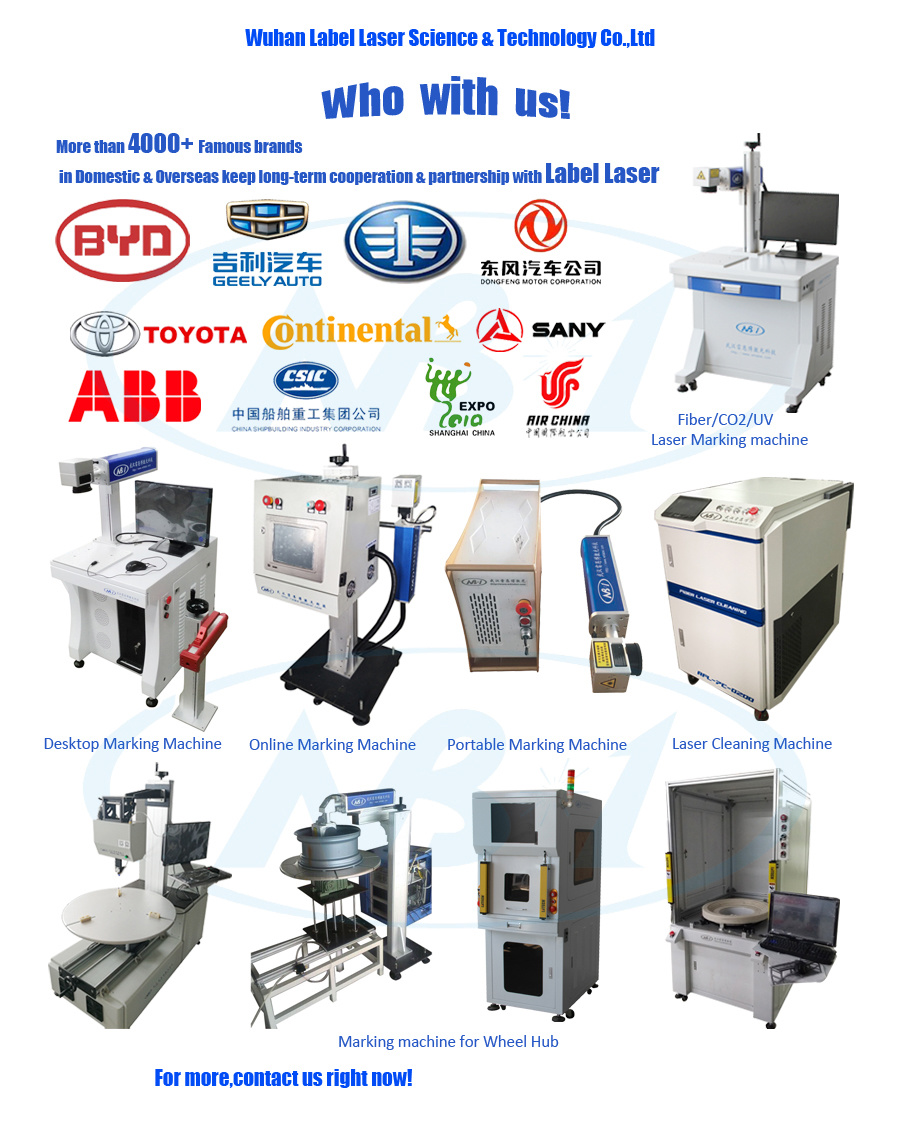 Working Flow: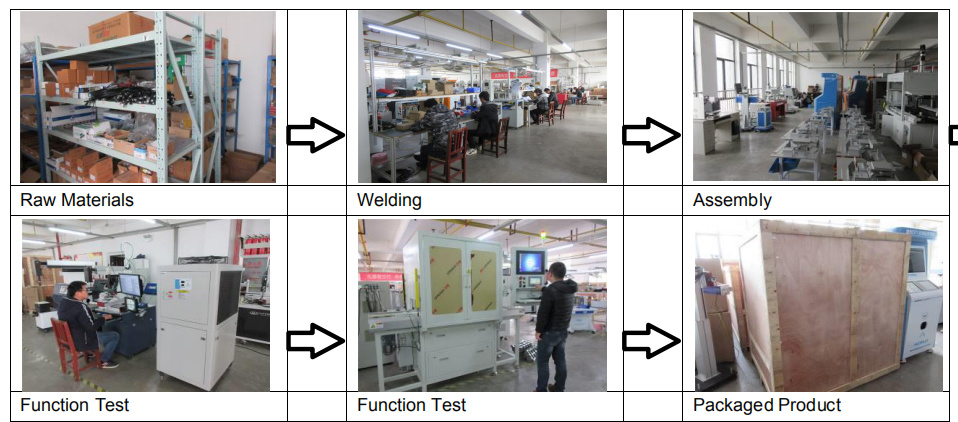 Packing & Shipping:
- Packing :
Anti-collision foam + wrapping film+ Export standard wooden case.
- Shipping:
Main transportation method: by sea.

Other Option: by air or railway transportation.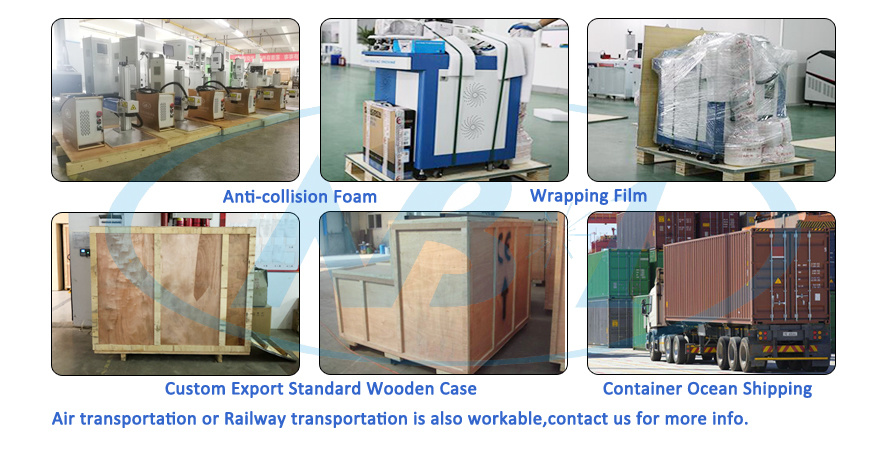 FAQ:
Q: What's laser marking ? And how laser marking machine works?
A:
Laser marking is typically a delicate process of creating a depth by removing the surface material,
especially with the
purpose of modifying its reflectivity and contrast. The laser marking systems at Label Laser are designed for non-contact processes. They offer better and more reliable solutions in terms of stability and deformity.
Q: How to operate the machine? Is training necessary?
A: The machine is mainly controlled by software and not complicated. Operation manual with pictures will be provided .
Generally speaking, an operator, who is not familiar with fiber laser marking machine can still operate it very well.
Q: In case machine exists the problem, how to do after sales service?
A: One-year warranty of the whole machine. We will help to solve any problems in this period.
Q: Is it possible to add customized protection cover?
A: Yes, customized protection cover is acceptable.
Q: Any consumables for fiber laser marking machine?
A: No consumables. It's very economical and cost-effectient.
Contact Us:
Any questions,please feel free to contact Ms. Jessica online or through below methods right now!
We will get back to you ASAP within 24 hours.