China

marking machine factory!wholesale price!





KT-PB02

,

120x40mm marking area




CNC handheld pneumatic dot peen marking machine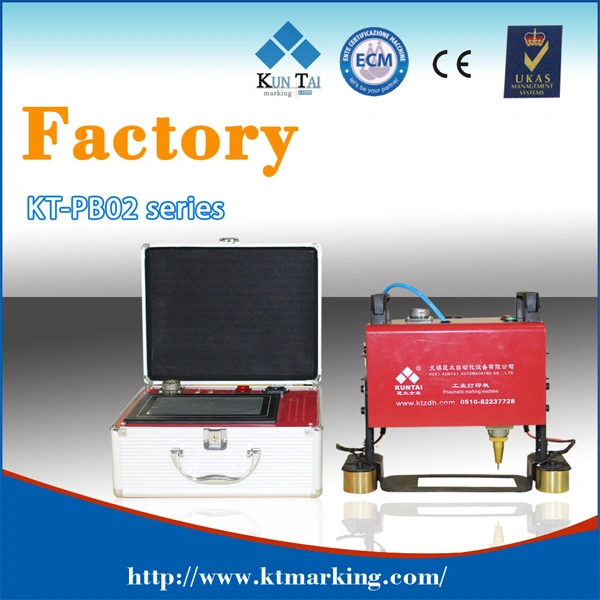 Pneumatic marker, also known as Dot Pin marking is also known as micro percussion marking machines. These machines are ideal for replacing a hand punching operation & has a lot of advantages over many similar conventional processes.
Hot foil stamping is also replaced with Pneumatic Metal marking machine. These machine are capable of marking on soft & hard components.
These machines can mark all metals such as Steel, Stainless Steel, Copper brass, Gold, Silver etc.Ideal for marking on hard plastics.
These machines mark permanent Batch numbers, Serial numbers, Barcode scanned data, Data from PLC, Date Codes, Month Codes, Year Codes, etc.
Technical Specification:
Marking depth
:0.01~0.5mm(depends on the different materials)
Marking contents
:Characters, alphanumeric, date, numbers, serial No, VIN code etc.
Marking area
(mm):120x40mm(customized accept)
Materials request
:below HRC60 metallic and nonmetallic materials (above HRC60 need special stylus)
Work power
:AC100V~240V50Hz/60HZ
Inputting air pressure
:0.3-0.6MPa
Application:
1. Motor industry: printing manufacture serial number, manufacture date, name, brand, etc. on the body, frameworks, base plate, pillar, engine, connecting rod, cylinder, piston, cylinder sleeve, etc.
2. Mechanical industry: marking on mechanical parts, machine tools, hardware products, steel tubes, sleeves, collars, rollers, pump valves, ring flanges, fasteners
3. Marking on apparatus, electromechanical instruments
4. Marking on hard plastic products,
5. Print numbers and manufacture serial numbers, etc. on aluminum, copper and stainless steel labels(nameplate)
6. Marking dial plates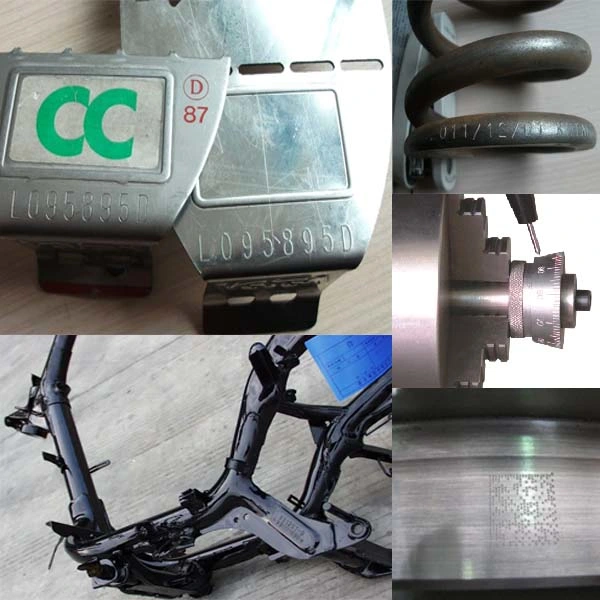 Machine characteristics:
1.Mobile: Lightweight& ergonomic hand held marking machine allowing the marker to be taken to the part, especially useful when marking very large and heavy parts.
2.Versatile:Wide range of application: its multiple purpose tooling allows horizontal or vertical marking. Moreover, customized tooling can easily be designed and fitted to the DBG handheld markers to adapt all your components and parts.
3.Low maintenance: Adopt the imported tungsten alloy print pin, stable and long life.
4.Low cost: Compared traditional marking technologies, the KT handheld markers requires no additional consumables. Therefore it is the most effective and productive marking system to run.
5.User-Friendly: The marking software is very easy to program and adapt to your marking requirements,suitable for windows. Its simplicity allows many operators to use the equipment without in-depth training.
6.Sturdy: The machines must be well protected against dampness, moisture, rust, and be able to standshock and rough handing
7.Good performance:Advanced guide rail keep accuracy,hardness of marking Stylus is up to HRC60
Packaging and Shipping:
each unit per plywood case
gross weight:25kg
dimension:440x400x540mm
shipping:by sea,by air,international express door to door.
Aftersale Service
1. free design and guide for customer
2. free software update
3. professional technical support
4. supply new machine parts
5. one year free warranty
Company: