This is precision laser marking machine with work table, muilt-function. Suit for marking logo on metal and some-non-metal by quickly laser engraving.
Relatively costs more than economic types, but helps you save a lot costs when comparing with super configuration machine, this type also can engrave the same great effects like super configuration machine with expensive price.

APPLICATION
Electronic products, daily necessities, packaging, gift, craft, auto parts, digital products, communication goods, building materials, electrical appliances, kitchenware, jewelry, sanitary ware, medical apparatus, advertising making, photovoltaic product, commodity, hardware, and so on.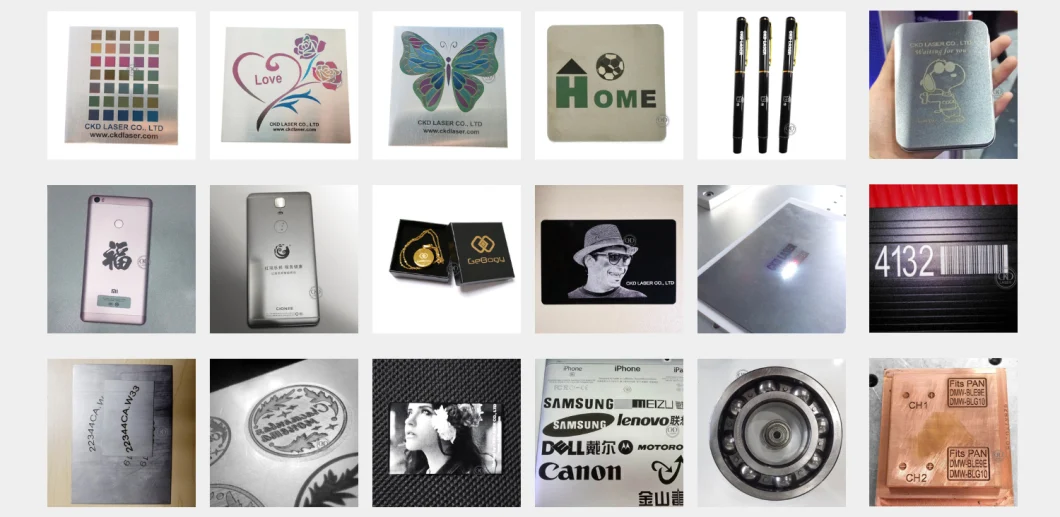 MATERIALAll metal:
stainless steel, copper, aluminum, gold, silver, titanium, alloy, etc.
Some non-metal:
ABS, PVC, acrylic (non-transparent), ceramic, EP, HDPE, PC, plastic alloy, ink and paint face, etc.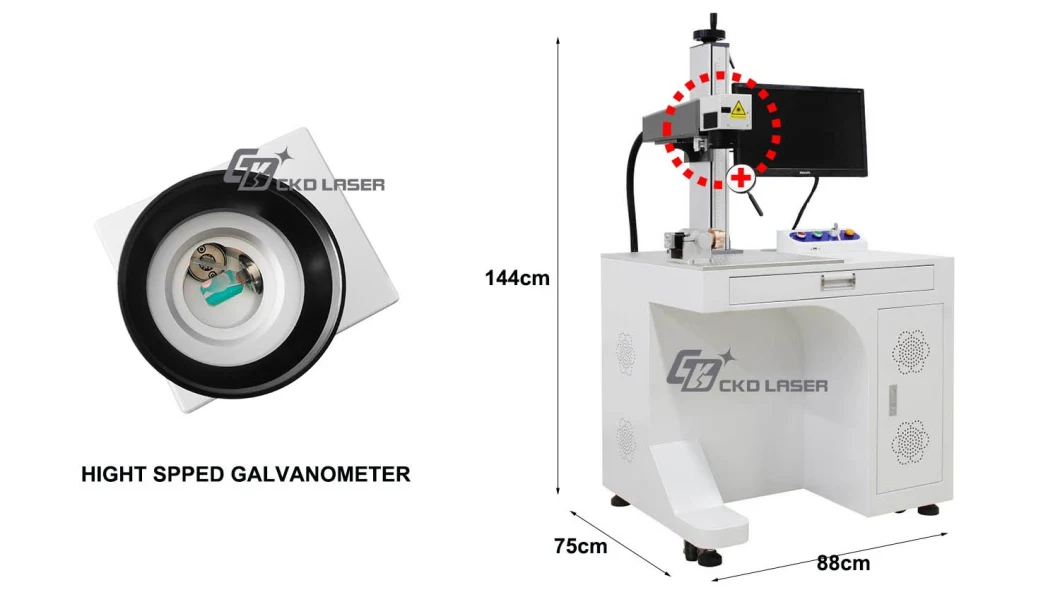 Galvonometer is the very importanct part of laser marking machine, which decise the marking effect and marking speed.
We did some practical tests to show you our quality: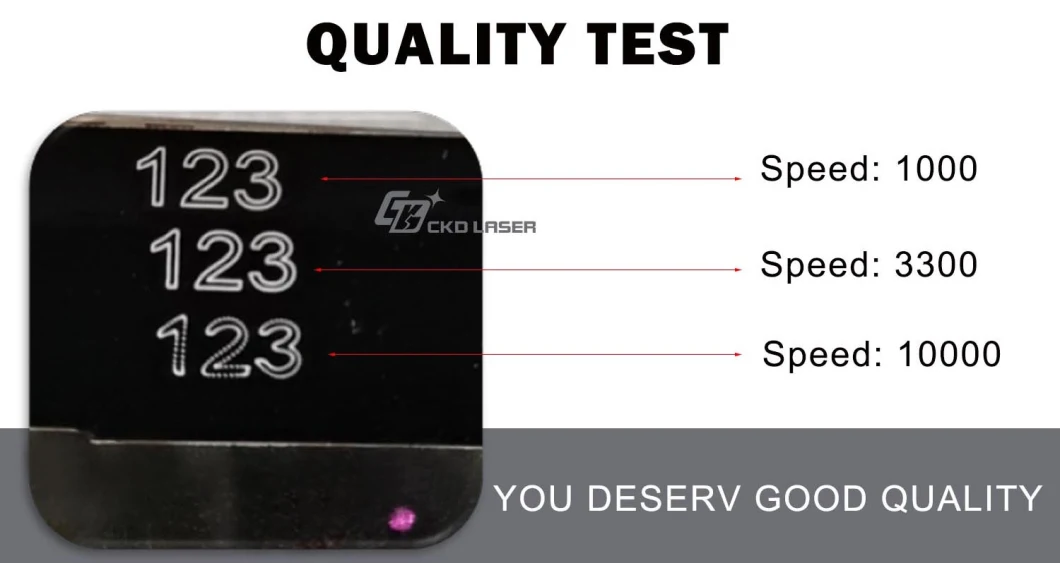 Twice marking 3mm height double lines fonts at differnt speeds, then observe under 50X microscope and with professionally measurements:
* When the marking speed is 1000: vertical and horizontal at coners, no burning, 100% overlap repeat marking.
* When the marking speed is 3000: no burning, 100% overlap repeat marking.
* When the marking speed is 10000: 3mm double line marking fonts are still recognizable!
* Speed above is real data in marking software, the corresponding speed of galvanometer is X2
Test conclusion: high speed with high precision
Low price will harm the quality and you deserve the good one. Once you need quickly processing or precision marking, our this type will help you a lot.

Can mark color on stainless steel with normal Q-swithed fiber laser, the same betiful color like MOPA,
help you save cost
when you need color marking while not always using and don't have to spend highly for MOPA laser.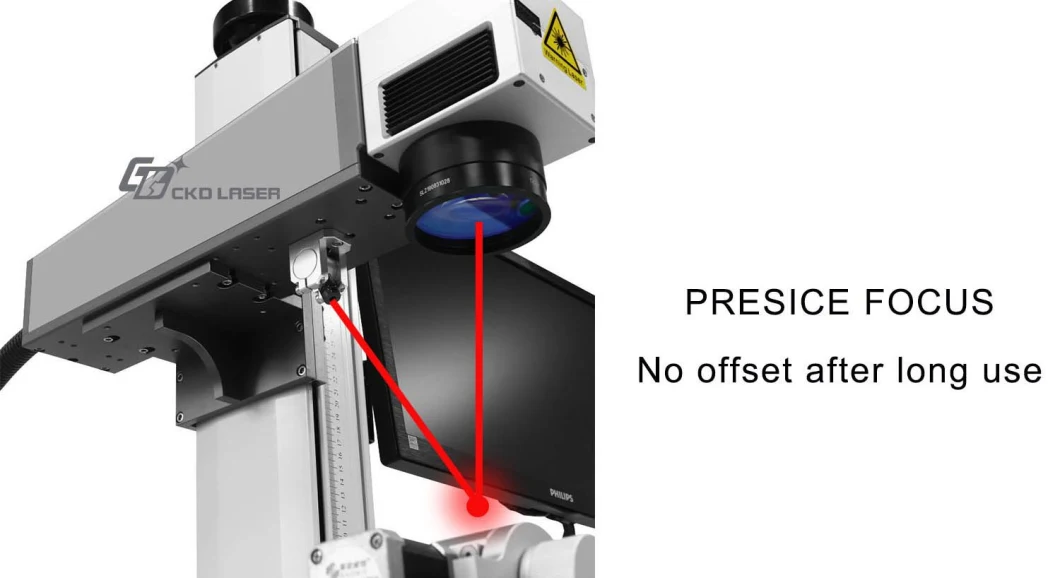 Precision is important, but long time precision is more importance, this type avoide off-set or transformation after long time using.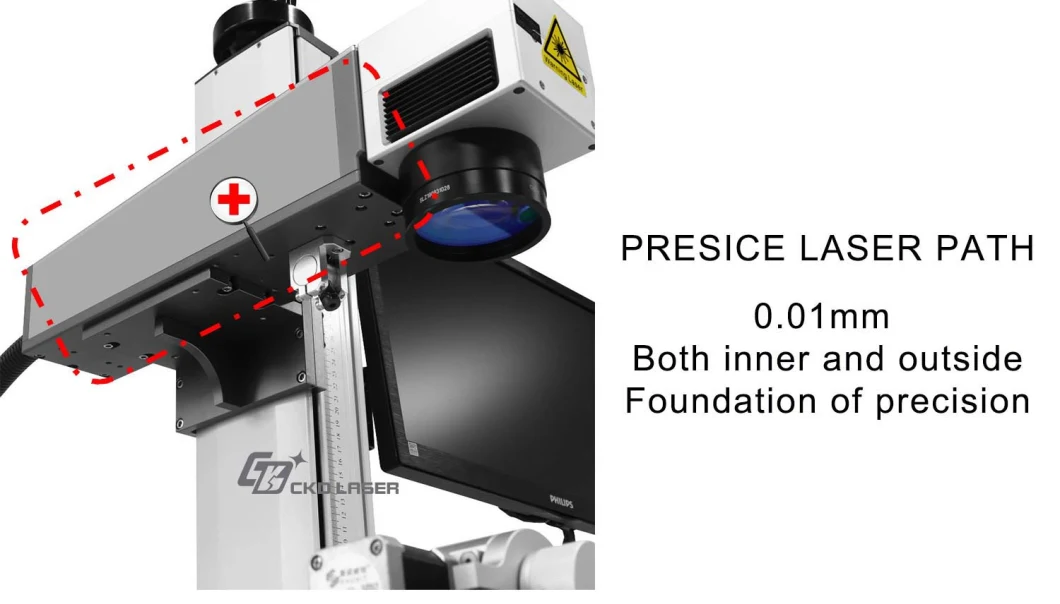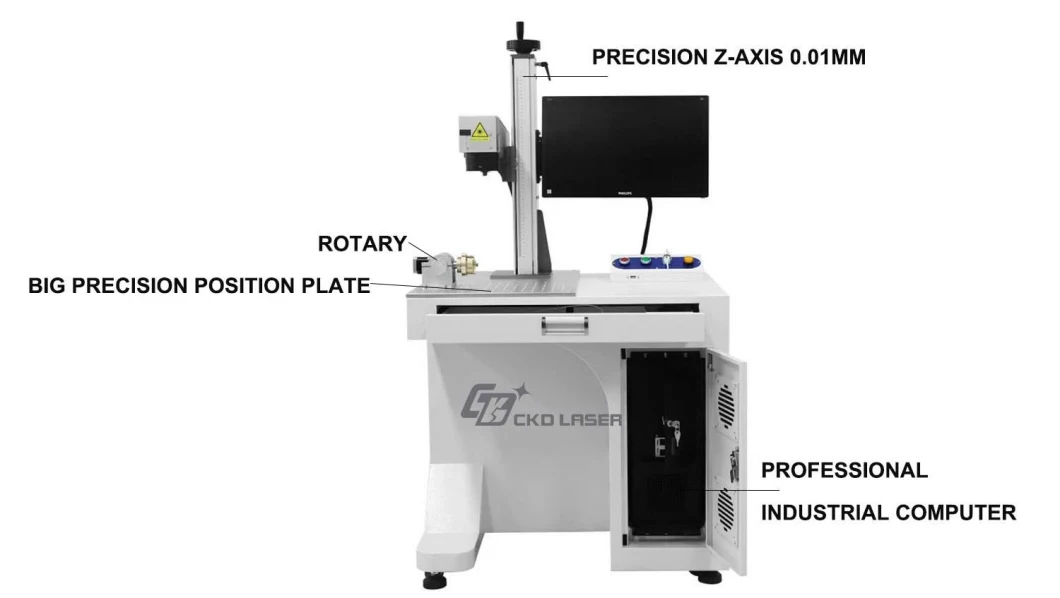 Z-axis with ball screw, stainless steel cast inner side, scientific mechanical structure, with focus fix tool to support specialized processing master.
Big position plate to avoid transformation when positioning fixtures or material on marking table, with 25mm holes distance for fix kinds of auxiliary tools, never save necessary cost by replacing smaller plate.
Notice please:
Rotary is optional.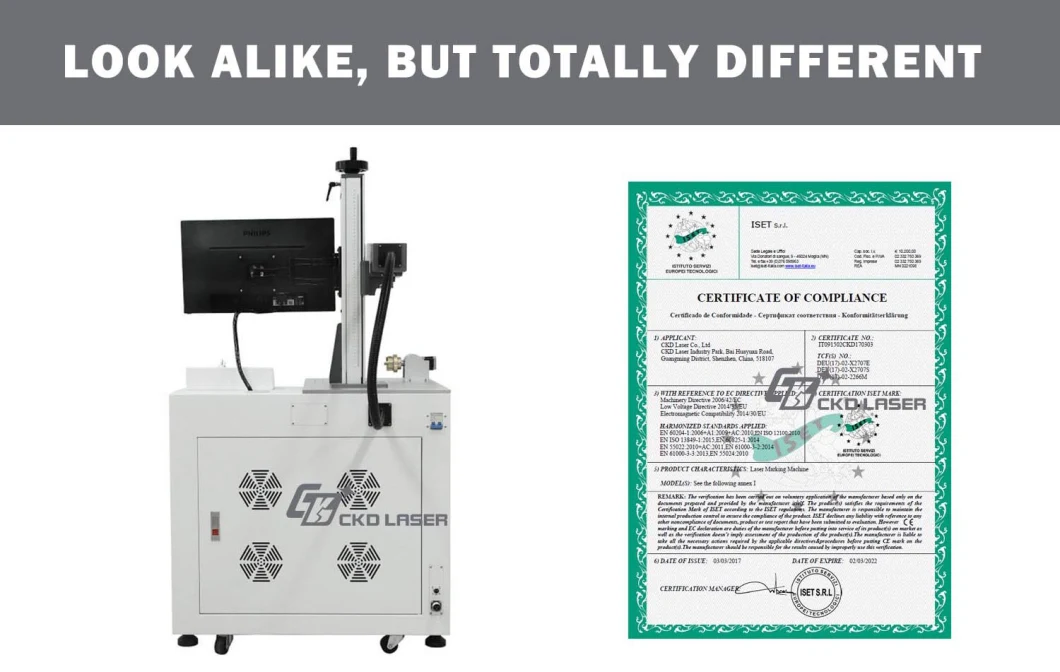 Stritcly according to CE standard, 6 years experience with European market.CONFIGURATION
| | | | | |
| --- | --- | --- | --- | --- |
| Parameters | Unit | Data | Data | Data |
| Type | | CKD-TLMB-20 | CKD-TLMB-30 | CKD-TLMB-50 |
| Marking Scope | mm | 100*100 | 100*100/150/150 | 100*100/150*150/200*200 |
| Laser Average Output Power | W | 21±1 | 31±1 | 51±1 |
| Laser Type | | Fiber Laser | Fiber Laser | Fiber Laser |
| Central Wavelength | nm | 1064 | 1064 | 1064 |
| Repetition Frequency | KHz | 20-80 | 30-80 | 50-100 |
| Control Board | | Original BJJCZ | Original BJJCZ | Original BJJCZ |
| Focus Spot Diameter | mm | <0.01 | <0.01 | <0.01 |
| Max. Power of Single Pulse | mj | 1±0.05@20KHz | 1±0.05@30KHz | 1±0.05@30KHz |
| Life-span of Fiber Laser Module | hrs | ≥100,000 | ≥100,000 | ≥100,000 |
| Marking Speed of Single Line | mm/s | <10000 | <10000 | <10000 |
| Temperature of Operation Environment | ºC | 0-40 | 0-40 | 0-40 |
| Cooling Mode | | Air Cooling | Air Cooling | Air Cooling |
| Control board and software | | EzCad2 | EzCad2 | EzCad2 |
| Computer | | With | With | With |
| Power Source Requirement | | 90-240V/50-60Hz/2KVA | 90-240V/50-60Hz/2KVA | 90-240V/50-60Hz/2KVA |
ADVANTAGES:
* Accurate:
high speed galvanometer, laser path, position board, focus tool...
* Muil-funstion:
metal / some non-metal marking for series number, logo, bar code, QR, photo...
* Convenience:
big position board, built-in PC, one step rotary using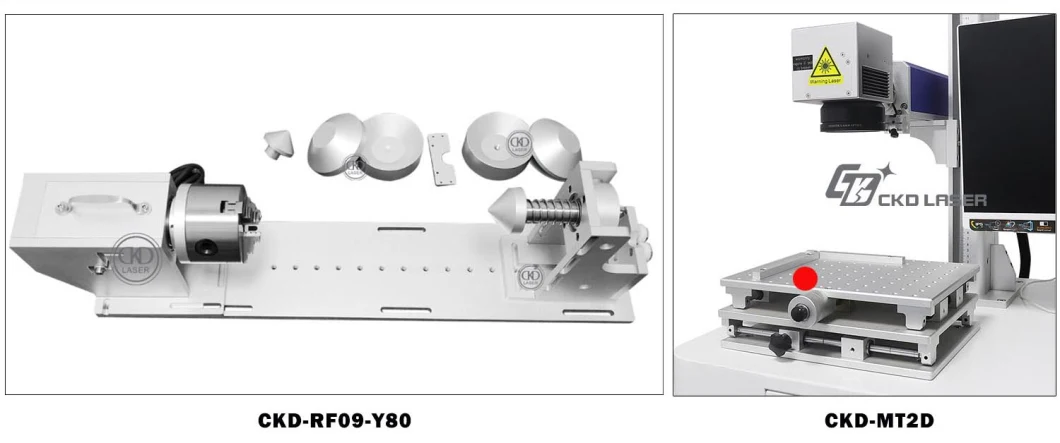 More details of optional tools:
http://ckdlaser.en.made-in-china.com
Simple intoductions:CKD-RF09-Y80:
column rotary engraving, or cups marking, good for long cylinders banlance keeping when rotary marking
CKD-MT2D:
slightly location moving with change location of material
CKD-PB01:
two position bars with slots, easy fix material's direction during marking
CKD-RF00-50:
for samller rings marking, chick diameter of this rotary is 50mm
GM-2000:
professional laser protect goggle, anti wavelength 200-450 & 800-2000nm, optical density OD: 4+Visible light transmittance: 60%
------------------------------------------------------------------------------------------------------------------------------------------------------------------------
Q1: What's the warranty?
A1: Two years for laser source, one year for other parts, change or repair the broken parts during warranty, our FAE will teach you how to remove the broken parts by video.
Warranty excluding man-made damage.
We are real warranty based series number on the machine, not false or empty promises, any too long time warranty is unreliable, ourt warrannty is effective and enforceable.
Q2:About packing?
A2 : We have 3 layers package. For the outside, we adopt wood craft case. Gross weight 130KG, packing size is 92*70*115cm.
Q3:About shipping?
A3: Support shipping by sea/air/car, support door to door multimodal-transport, quality carriers with year operation, stable and reliable.
Please send us your comapny address when asking shipping service also.
Q4: How to install and run the machine?
A4: You will get details in user manual, you only need install the column with laser path and put on monitor of computer.
Support online training.
Q5: How can i know the machine is what exactly i need?
A5: Please send us your material photo, marking speed demand, marking size demand and so on, you will get a promptly help from us.
Q6: Can you give a discount?
A6: Sorry, this type is high quality product, arm's length pricing, we can recommend you economic type, please contact our sales for details.
Q7: How you can keep your quality.
A7: Accurate calibration on independent design mechanical structure according to market feedback, always keeping top quality parts, strictly four times quality inspection, key install workers are tranied and after 4 years internship at least, updating with steps of marketing.Meet CE, FDA, and IEC standards, you will get a unquestionably reliable machine from CKD LASER! Your every peny is deserve.
CONTACT US / ONLINE SERVICE:
Send your inquiry by following message box, we will get an artificial feedback immidiately: